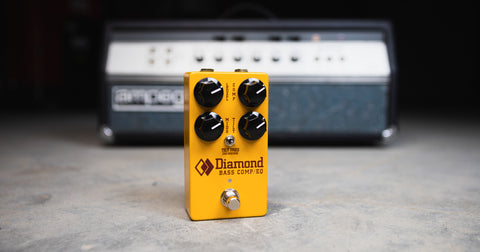 Optical Bass Compression, At Its Finest
Bass Comp/EQ
Regular price

$239.00
Sale price
Share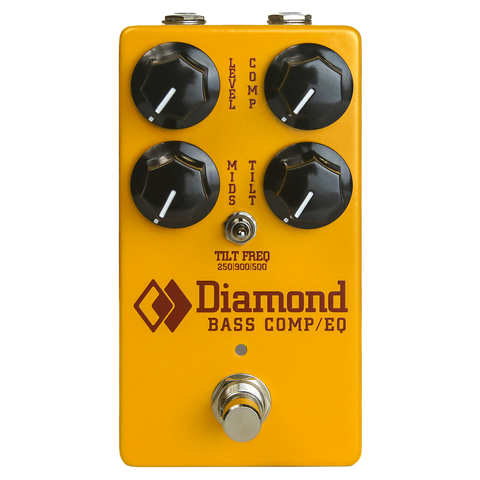 There's something truly magical about finding the compression sweet-spot on bass. Enter the Diamond Bass COMP/EQ. This bad-boy will go on your board, and never come off. This next-gen compressor maintains the classic circuit architecture while increasing range and functionality. Now armed with 3 Tilt frequencies and a +/- 10dB Mid control, the new EQ section allows you to sculpt your tone in the same box that master's it (that's a good thing).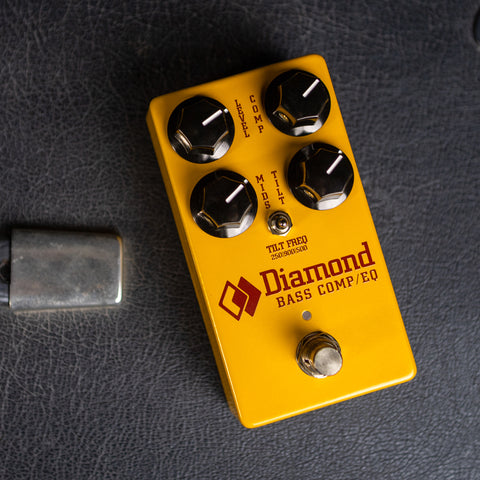 SIGNATURE COMPRESSION
Rather than mess with perfection, the Diamond Comp/EQ augments the original bass-tuned yellow box design with a new Mids boost/cut control, 3-position Tilt Frequency switch, custom spec'd, US made opto-isolators and modern, quiet switching.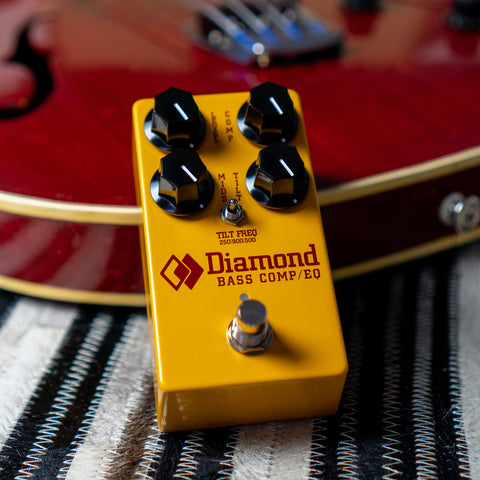 PEDALBOARD MASTERING
Combining silky smooth, natural optical compression with our signature hi-fi inspired, centre-detent active tilt EQ and Mid boost/cut control, the Comp/EQ is a mastering solution for your effects chain....one you might never turn off.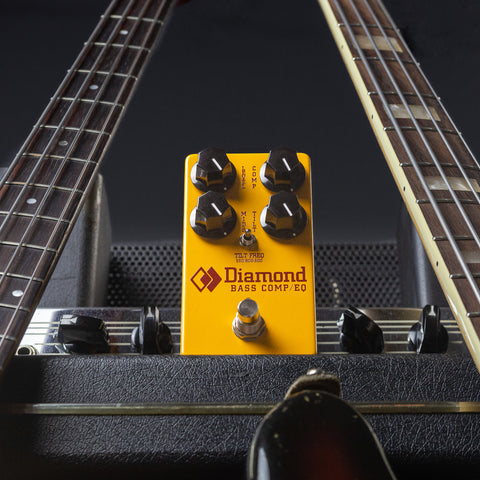 THE NEW STANDARD
For the modern pedal-user's needs. Space saving design, without any loss of quality. Complete with all analog, Burr-Brown audio path, top-mounted jacks, 9-18VDC operation and relay based true bypass switching.
Instruction Sheet
Technical Info
Input Impedance: > 1MΩ
Output Impedance: < 10KΩ
Switching: Relay True Bypass
Power Requirement: 9-18 VDC , negative tip, 2.1 mm barrel jack. 
Current Draw @ 9 VDC : 22mA
Tilt EQ Fulcrum Frequency: 250 || 500 || 900 Hz +|- 6 dB
Mid EQ Center Frequency: 800 Hz  +|- 10 dB
Dimensions: 122 x 66.98 x 39.64 mm (4.8 x 2.64 x 1.58")
Weight: 280 g
Made In Canada 
Warranty Info
All Diamond products purchased through the diamondpedals.com website or our authorized dealers come with a three-year warranty against failure resulting from defective parts and/or faulty workmanship. Cosmetic flaws or issues related to wear and tear are not covered.

The warranty applies only to the original owner of the product and is not transferable. Warranty coverage terminates three years after the owner receives the product. While a product is under warranty, the product will be repaired free of charge. The owner of the product will be responsible for both shipping to and from Diamond Pedals. Warranty coverage will be automatically canceled should the product be tampered with, modified, abused, damaged through misuse, repaired by an unauthorized third party, or damaged through failure to follow the operating instructions.

USE OF AN IMPROPER POWER SUPPLY WILL VOID THE WARRANTY