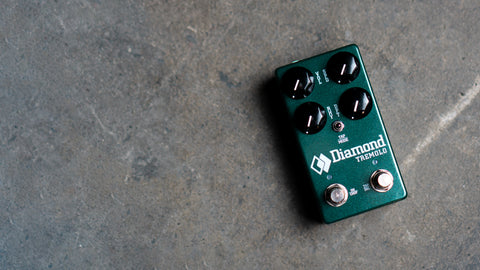 Tremolo
Regular price

$239.00
Sale price
Share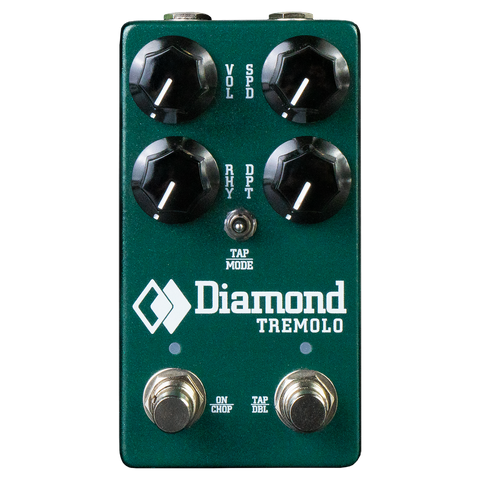 Tremolo has been a staple effect since the 60's. Now it's time to welcome it to the 21st century. Don't let your preconceptions fool you, this is not your average trem. Combining 3 distinct trem flavours into one pedal, the new Diamond Tremolo takes what it means to be a tremolo and pushes it well beyond the limits. At its core, the Diamond Tremolo offers classic amp style, optical amplitude modulation with sine, shark fin and square waveforms. Further enhancing the pedal, a modern FET chopper delivers a sharp edge, completely killed, tremolo effect and a new Dicer mode allows you to arm the pedal and use it as a momentary kill switch. Include the 11 rhythm control positions providing a number of different depth, mode and tempo accents and the updated Diamond Tremolo will be your go-to tone warping machine.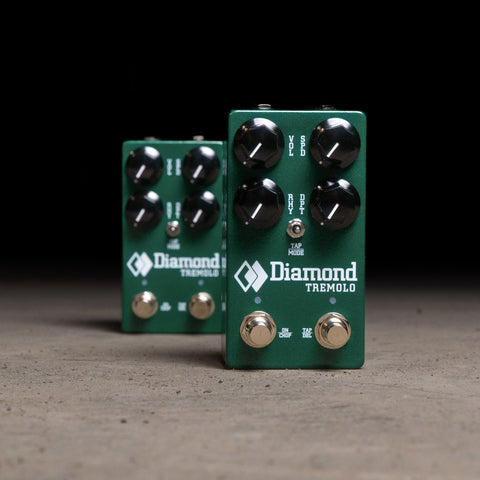 Dual Tremolo Modes
The Diamond Tremolo offers both warm, natural vintage amp-style optical tremolo with sine, shark tooth and square waveforms as well as a precise FET Chopper with momentary Dicer function.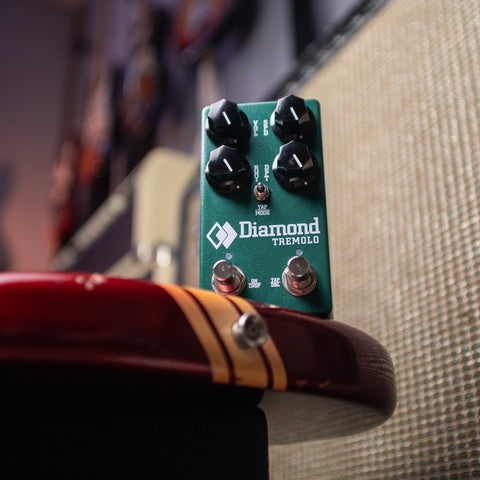 Advanced Features
Small but mighty. Loaded yet user friendly.
The Tremolo offers Tap Tempo with subdivisions, 11 position Rhythm control, Insta-Chop, momentary or latching speed Doubler, and more.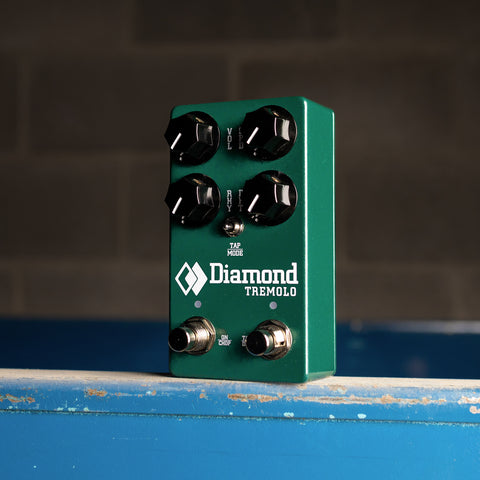 The New Standard
For the modern pedal-user's needs. Space saving design, without any loss of quality. All analog, Burr-Brown audio path with microprocessor control. Complete with top-mounted jacks and relay based true bypass switching.
Instruction Sheet
Technical Info
Input Impedance: > 1MΩ
Output Impedance: < 10KΩ
Switching: Relay True Bypass
Power Requirement: 9 VDC , negative tip, 2.1 mm barrel jack.
Current Draw @ 9 VDC : 21mA
Dimensions: 122 x 66.98 x 39.64 mm (4.8 x 2.64 x 1.58")
Weight: 305 g
Warranty Info
All Diamond products purchased through the diamondpedals.com website or our authorized dealers come with a three-year warranty against failure resulting from defective parts and/or faulty workmanship. Cosmetic flaws or issues related to wear and tear are not covered.

The warranty applies only to the original owner of the product and is not transferable. Warranty coverage terminates three years after the owner receives the product. While a product is under warranty, the product will be repaired free of charge. The owner of the product will be responsible for both shipping to and from Diamond Pedals. Warranty coverage will be automatically canceled should the product be tampered with, modified, abused, damaged through misuse, repaired by an unauthorized third party, or damaged through failure to follow the operating instructions.

USE OF AN IMPROPER POWER SUPPLY WILL VOID THE WARRANTY