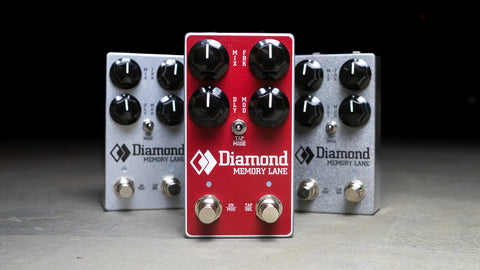 The dBBD Delay, with a fresh new face.
Custom Burgundy Memory Lane
Regular price

$249.00
Sale price
Share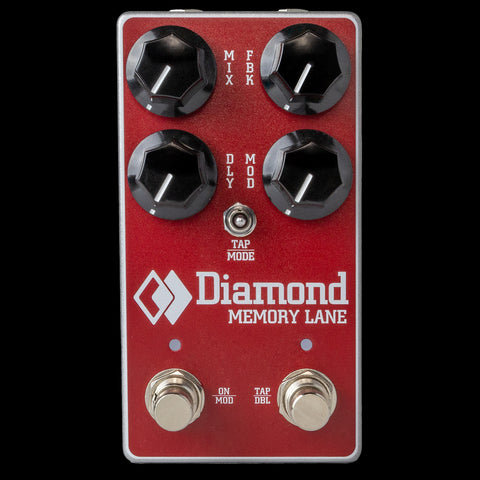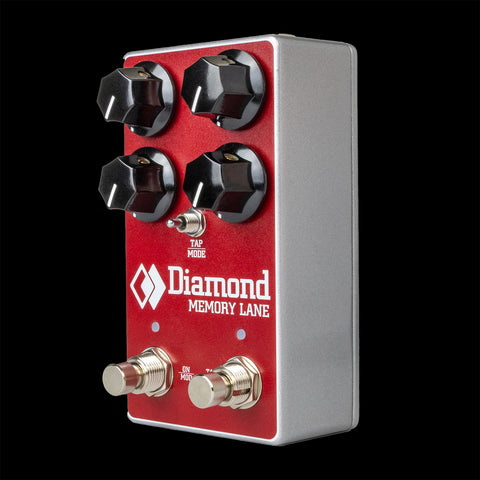 In classic Diamond style, we bring you a custom print Memory Lane in burgundy red! This has the same DNA as our legacy Memory Lane, but if you're looking for a bit of red pizzazz, we've got you covered. We've only got a few of these so make sure to snag em' now!
Blending analog companding, anti-aliasing|reconstruction filters with a bucket brigade style delay line, we have immaculately captured the ethereal essence of the original big-box Memory Lane using Diamond's innovative digital Bucket Brigade Delay technology (dBBD). Basically what we're saying is, you get all the goodness of the original Memory Lane in a smaller footprint, over double the delay time, extended frequency response, higher SNR, and at a fraction of the current draw.  
This innovative progression of the Memory Lane is defined by 3 distinct delay lines to offer modern or vintage sounds.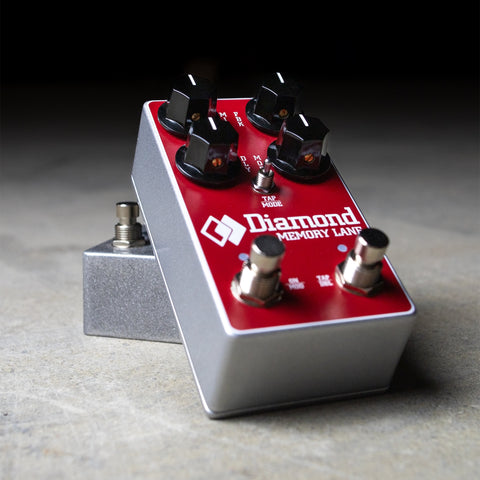 Original Circuit
The Memory Lane Jr. circuit reincarnated. Our original compander equipped dBBD delay line delivering up to 1200ms of lush, modulated repeats.
Three Distinct Delay Modes
The Memory Lane's original fixed sampling rate delay line has been augmented with a new warm delay mode offering vintage BBD style variable sampling rate, warmer repeats and a 1200ms maximum delay time for gorgeous ambient delays as well as a new vintage mode designed to capture the magic of analog BBD delay pedals. Variable sampling rate, snappier repeats and 50ms-550ms delay times inspired by yesterday's big box delays.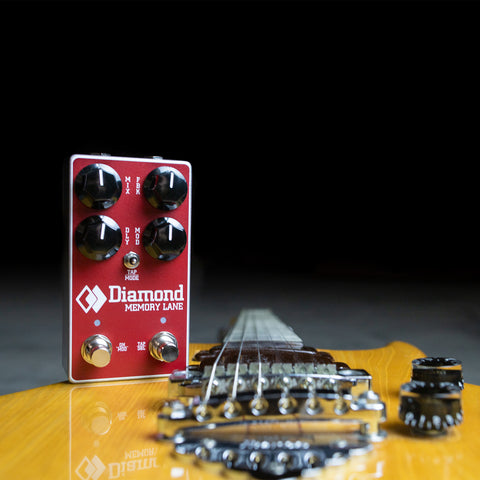 The New Standard
For the modern pedal-user's needs. Space saving design, without any loss of quality. Features include top mounted jacks, Burr-Brown equipped buffered bypass with optional trails, tap tempo with subdivisions, AutoDiv, Doubler, momentary or latching modulation and more.
The Diamond dBBD Delay
At the heart of the original, analog Memory Lane is a BBD and Compandor. This new, compact Memory Lane is designed to capture the character of the original by implementing an embedded system that operates as drop-in replacement for a BBD and surrounding it with a custom Companding and Anti-Aliasing circuit similar to that of the original.
A BBD operates by sampling the input, passing a copy in its series of capacitors bucket-to-bucket, and outputting the contents of the last capacitor, all clocked at a specific rate. This delay line operates the same but uses RAM to pass these copies and an internal clock to define the sampling rate. Our emulation has been pushed even closer with Warm mode's ability to capture the BBD's capacitive losses.
The analog circuitry aims to respond exactly as the original Memory Lane with the Compandor adding a slight compression and softness, allowing the delay to sit perfectly in the mix, the Anti-Aliasing filters creating warmth, and the analog feedback network highlighting and emphasizing these features.

Instruction Sheet
Technical Info
nput Impedance: > 1MΩ
Output Impedance: < 10KΩ
Switching: Buffered Bypass
Power Requirement: 9 VDC , negative tip, 2.1 mm barrel jack. 
Current Draw @ 9 VDC : 45mA
Dimensions: 122 x 66.98 x 39.64 mm (4.8 x 2.64 x 1.58")
Weight: 300 g
Warranty Info
All Diamond products purchased through the diamondpedals.com website or our authorized dealers come with a three-year warranty against failure resulting from defective parts and/or faulty workmanship. Cosmetic flaws or issues related to wear and tear are not covered.

The warranty applies only to the original owner of the product and is not transferable. Warranty coverage terminates three years after the owner receives the product. While a product is under warranty, the product will be repaired free of charge. The owner of the product will be responsible for both shipping to and from Diamond Pedals. Warranty coverage will be automatically canceled should the product be tampered with, modified, abused, damaged through misuse, repaired by an unauthorized third party, or damaged through failure to follow the operating instructions.

USE OF AN IMPROPER POWER SUPPLY WILL VOID THE WARRANTY